More info
Our demo wings are purchased in spring and sold at the end of season in outstanding technical condition.
The Joy of Flying
Bringing a pedestrian interested in free flying to begin paragliding training is not complicated. All the art is to allow the recreational pilot to benefit from a high well-being factor and to have positive experiences, after obtaining the patent, so that he can practice our sport for a long time. This is precisely where the EPSILON series comes in.
Reputed for its balance, the EPSILON 8 quickly established itself as one of the most popular EPSILON, as evidenced by the sales and satisfaction of customers.
For the development team, further improvement of the following model was a major challenge.
Advance, however, is convinced that it has taken up this challenge with the EPSILON 9. A sharp increase in performance and tangible improvements in technology give a more efficient wing even more precise handling. In addition, the new generation of our intermediate leisure wing is characterized by a great serenity in a turbulent atmosphere. One aspect is particularly noteworthy: all these improvements do not involve the slightest compromise in terms of passive safety.
You will find a lot of additional information and everything you need to know about EPSILON 9 on the Advance website.
Colors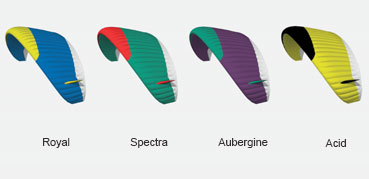 Technical data
| | | | | | |
| --- | --- | --- | --- | --- | --- |
| EPSILON 9 | 22 | 24 | 26 | 28 | 30 |
| Surface à plat m2 | 22.1 | 23.9 | 25.9 | 27.8 | 29.8 |
| Surface projetée m2 | 18.5 | 20.0 | 21.7 | 23.3 | 25.0 |
| Poids de décollage conseillé kg | 60 –77 | 70 – 88 | 80 –100 | 92– 114 | 105 – 128 |
| Plage de poids idéale kg | 65 –75 | 75 – 85 | 85 – 97 | 97– 110 | 110 – 125 |
| Poids de l'aile kg | 4.15 | 4.40 | 4.65 | 4.95 | 5.25 |
| Envergure à plat m | 10.73 | 11.15 | 11.61 | 12.03 | 12.45 |
| Envergure projetée m | 8.26 | 8.59 | 8.94 | 9.26 | 9.59 |
| Allongement à plat | 5.2 | 5.2 | 5.2 | 5.2 | 5.2 |
| Allongement projeté | 3.68 | 3.68 | 3.68 | 3.68 | 3.68 |
| Corde maximum m | 2.59 | 2.69 | 2.8 | 2.9 | 3.0 |
| Nombre de cellules | 47 | 47 | 47 | 47 | 47 |
| Nombre d'élévateurs | 3+1 | 3+1 | 3+1 | 3+1 | 3+1 |
| Certification | EN / LTF B | EN / LTF B | EN / LTF B | EN / LTF B | EN / LTF B |